Heyyaaaa!
Yuk yak yuk ~ Ala Eko Patrio
Langsung aja to the point tentang brand vampire ini. Readmore!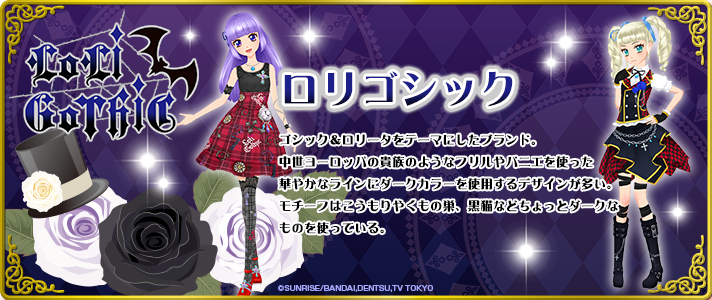 Goth dan loli. Tema Loli gothic. Misterius dan menawan, brand ini menggabungkan gaya gaya gothic-loli tradisional dengan gaya abad pertengahan Eropa dan era Victoria. Dilengkapi dengan mawar dan salib motif, warna gelap, dan embel-embel dan renda dengan sayap kelelawar, brand ini penuh dengan kegelapan yang akan membawa keluar pesona misterius di dalam dirimu.
Known Users
Yurika Tōdō
Sumire Hikami
Asami Himuro
Michiru Kurosawa
Nino Nishijima
Reika Yūki
Dengan harapan memperoleh Langka Premium dan memperbaiki reputasinya yang rusak nya, Yurika enlists bantuan Ichigo, Aoi, Ran, dan Otome untuk mendapatkan diangkat dengan Maya Yumekoji. Sementara jahat dalam penampilan, ia adalah Top Designer rendah hati dan umumnya baik yang hanya ingin bagi mereka dengan kepribadian yang kuat dan tekad untuk memakai coords nya. Ia menguji berhala yang ingin menunjukkan kekuatan mereka dengan mendapatkan bantuan stafnya. Setelah Yurika berdiri untuk apa yang dikatakan tentang dirinya dan melihat tekadnya, Maya diberikan padanya hak untuk memakai Premium pertamanya Langka. Dia akan pergi untuk menjadi salah satu teman baiknya.
Ini ada contoh beberapa kartu koleksi Loli Gothic
Pai Pai~