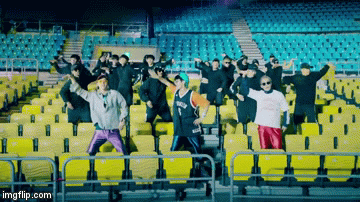 Nah, ini dia lagu CBX (Chen, Baekhyun, Xiumin) yang aku suka. Judulnya The One. CBX ini merupakan unit bagian dari EXO yang sengaja dibentuk secara independen. Let's readmore!
[BAEK] bwabwa masulgachi
hansungan ppallyeo deureo machi
moduga jjan, deusi geunyeol bone
meorireul sseureo neomgini modu nollae
The truth is
[XIU] da gateun mamilgeol
hansungan namjaraneun ireum arae Rivaldwae
chimyeongjeokin jeo misoneun Dangerous
(so dangerous)
[CHEN] Oh onmomi jjarithaejyeo 'aiya' one
Oh girl, du nuneul ttel su eobseo nan
meolliseodo da neukkyeojyeo
[BAEK] dodohan geu pyojeong dwie
sumgyeonoheun misoga
nareul hyanghan geot gateunde
hwaksilhae jakkuman majuchineun
neoui yeppeun du nuni
nareul jakku aetage hae (Come on)
[ALL] ni ape nal deryeoga
Just you and me alone oh
mam ganeun daero geunyang
neol naege matgyeobwa oh oh
(I promise I will be the one)
...
[CHEN] dalkomhan ni moksorin yeppeun Melody
nareul deultteuge mandeuneun geol
modeun geol da gajin deuthan gibun Nobody knows
neoegero jeomjeom deo ppajyeodeureo
[BAEK] kkumin geolkka
jigeum nae simjangi
ibane toktok twineun
satangcheoreom ttwine
[XIU] ogame peojin
jjarithan neukkim, i gamjeongi
modu sarajyeo beorigi jeone
meonjeo naemin nae soneul jabajugetni?
[BAEK] kokkeuteuro seuchyeoganeun
neoui shampu hyanggiga
nareul jamsi meomchuge hae
geu sungan, salmyeosi seuchyeogan ni
budeureon sonkkeuteun
nareul jeongmal michige hae (Let's go)
[ALL] ni ape nal deryeoga
Just you and me alone oh
mam ganeun daero geunyang
neol naege matgyeobwa oh oh
[XIU] na namjadabge naege dagagalge Baby
dareun geon modu jiwobeoryeo
[CHEN] jigeum igose
[XIU] dan duliseo, Just me and you
~~~~~~~~~
[ALL] ni ape nal deryeoga
Just you and me alone
([CHEN] You and me, you and me, yeah)
[ALL] mam ganeun daero geunyang
neol naege matgyeobwa
([CHEN] naege neoreul matgyeo)
[XIU] Baby let me be the one
Baby let me be the one
([BAEK] Baby let me be the one)
[CHEN] jiltu eorin siseondeul soke
maju seoisseo kkumi anigil barae
([BAEK] Baby let me)